FIFA21 was published by EA Sports in October 2020. FIFA21 is a part of iconic FIFA football games. The first ever FIFA game was published in 1994 and after that there has been a new game of FIFA every year. I chose this game for my review because I have played every FIFA since 2010 and the new FIFA21 got just released this October so the timing was perfect. I really enjoy watching real life football as well, so it is easy to find the FIFA video games very exciting and interesting.
The basic idea of the game is similar to real life football: you play with a team and try to beat the other team by scoring more goals than the opponent team. There are various different modes in FIFA21 and the most basic one is called kick-off. There you can play a game of football against the computer or your friend.
 In ultimate team you can build your own team and compete against players around the world. Picture: playstation.com                
The most played game mode is ultimate team. The idea is that you build your own team from players in the game and play online against other players and their teams. The other modes in the game are for example career mode and Volta. In career mode you can effect on your career as a footballer and on you play with one player against the computer. Volta is a street football mode and there you can play online, against the computer or against your friends.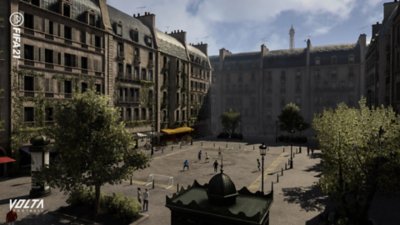 In Volta you can play street football against your friends. Picture: playstation.com
The graphics in the game are unreal. It ́s almost like you would be watching a football match in television. The graphics were the first thing I noticed when starting to play the game and the really make justice for the great gameplay of FIFA21.
I personally really enjoyed playing this game and I'm sure I will play in the future as well. I really recommend the game even if you aren't so interested in football or in sports in general. One ofthe best qualities in this game is that it ́s easy to play even if you ́ve never played any FIFA games before. The instructions are really simple and you get going in the game really fast. That ́s why I recommend the game for everyone.
Publisher: EA Sports
Developers: EA Vancouver & EA Romania
Platforms: Microsoft Windows, PS4, PS5, Xbox One, Nintendo Switch, Stadia, Xbox Series X/S
Release: October 2020
Genre: Sports
PEGI: 3
You might also like
---
More from Game Reviews
---
71
Ring Fit Adventure is an excellent motion-based game that mixes RPG gameplay with exercise.
95
Saying farewell to your children after a long life can be a bittersweet experience.
72
Gris is a 2D platform-adventure with award-winning visual design, yet gameplay so lacking that it seems clear to which the …